As the first day of this adventure starts I realize that the hardest part of this whole thing might be picking the pins that I want to try. There are just way too many!!!! It is the day after Halloween and with 6 kids I am tired! I'm not afraid to admit that I was looking for something simple, so that my sleep deprived brain could handle it. All 3 of my girls love hair goodies (Thank goodness since They have like a million of them!), so I'm always looking for new and different ones to try. I came across these little cuties a few days ago.
Finished Project: I definately did not like the result of this project. While all the pictures look cute, the lack of a template to follow made things, lets just say, interesting! I cut out numerous different pieces trying to get the same effect and it just didn't work.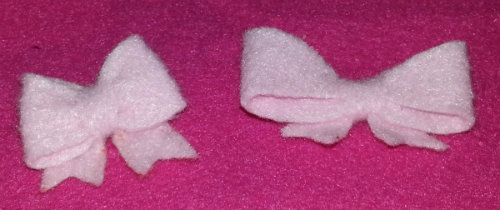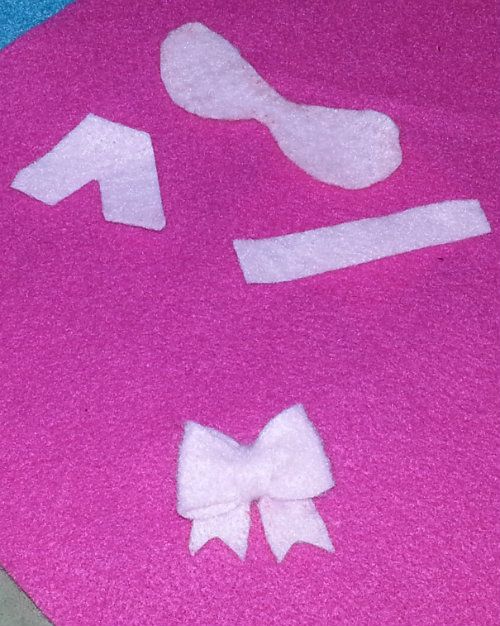 I decided since I already had my felt out that I would look for something else to try........I really hate feeling disappointed with a craft. There's this sense of satisfaction I get when I try something new and I love the outcome........I WANT MY CRAFT HIGH!
So I went with this.......The best thing about this pin, was that it came with a printable template, no guessing. I think I will be pulling out my "good" felt to do some more of these. I decided to leave the split tails off of mine. I liked the nice simple look without it. This I will do again. (and probably again, and again and again.) These were made with Wal-Mart/Hobby Lobby felt.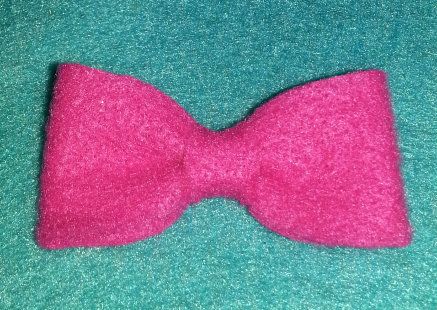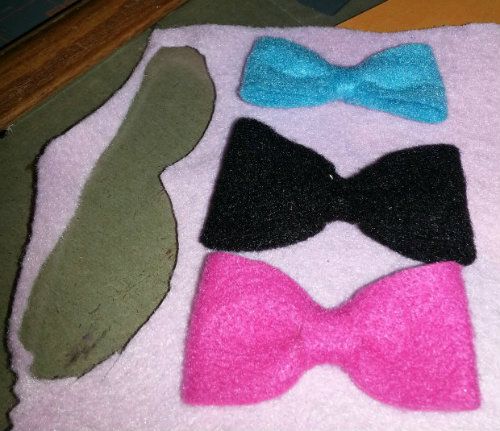 I had trouble deciding whether or not I wanted to put this on a simple alligator clip or on a headband, and I decided to go with the clip. The girls can use the clips to attach them to headbands or wear them in their hair just the way they are.
If you have never lined an alligator clip all you have to do is cut a piece of ribbon (3/8" width) at
4 1/2". You can take a lighter to quickly seal the ends. Just run it by the end quickly so you don't burn it. You do not even have to touch the ribbon just get close. This prevents the ends from fraying.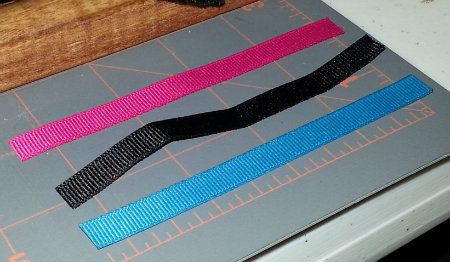 I just used hot glue to line my clips..... I partially line mine. This makes it much easier to put in the hair.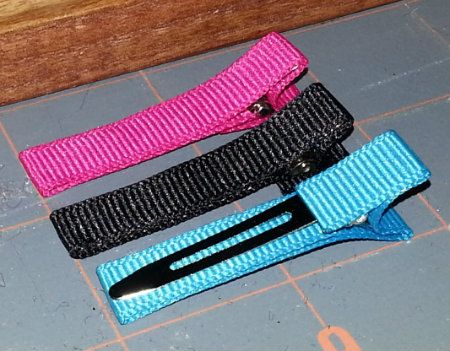 I also always add a "no slip grip" to the inside of every clip I make. This helps keep them from slidding out. My choice of product to use is..............just shelf liner. I like to use the shelf liner that is like a foam sponge. It comes in a great big roll and last forever. Just cut it to size.
So this last pic is driving me up a wall. I have tried and tried to fix it. For now it is just going to have to stay the way it is.......Now to go search for what I want to try tomorrow! Woot! Woot!