Ok, I admit it, I'm a bit behind on the bandwagon here. The rag wreaths were everywhere a while ago, but I just now got around to making one. Better late than never, right? If there ever was a project that I wanted to toss out the window, then light on fire, then stomp on it till I had absolutely zero energy left this was it! The project isn't complicated, simple steps, but if your like me and you don't calculate how much material you need correctly and have to untie material and figure out that you tie one mean knot, and they just DO NOT want to come back off, you might want to pass! Seriously though, I will do this again, it's really not complicated at all, and can even be done in front of the tv. Your kids can help, or do it all by themselves (if they can tie a basic knot, they are good to go!)
I started with an 18 inch metal wreath frame. I picked it up for a few bucks at Hobby Lobby. Michael's and Jo-Ann's also sells them. Mine had 4 metal circles. I liked this because then I could tie on more material for a fuller look. A lot of people tear their material, but I just wasn't feeling that so I got out my pinking sheers and just cut strips about 2 inches wide. The material I used was about 43" wide, so I folded my material in half, then half again to cut the strips. Then I took each strip and did the same.......You should should get 4 pieces out of each strip you cut. I used 3 different colors. I started with two, then about half way through realized I didn't have enough, so added in the cream. I used about 6 1/2 yards of material. I wanted it to be full.
Ignore the pipe cleaners those go with another project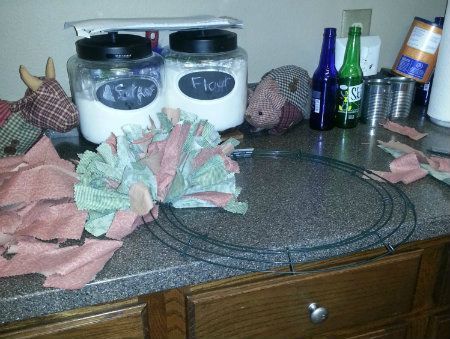 Just keep tying....Just keep tying.....Just keep tying! I tied as many as I could fit which did a number on my fingers after a while, but I think it was worth it.
I have a bunch of Halloween material in my stash that has just been sitting there for way to long. I think my Mom, whose favorite holiday is Halloween, is going to get a Halloween Rag Wreath for Christmas (I know, I know.....seems a little whack!)