I really love it when I can bring two pins together! Is it crazy that it makes the satisfaction of trying pins even better?
Pin 71 Cleaning your Pillows
Everyone in the house has been sick, and I have washed, steamed and disinfected everything I possibly could. Germs are the one thing that the kids share without reservation! Last thing left were all the pillows in the house. 7 beds full of pillows, throw pillows on 4 different couches, throw pillows on 2 love seats, not to mention all the ones on chairs throughout the house. That adds up to a lot of pillows. Washing all the pillows is a day long chore (at least in this house, ugh!) but there is nothing better then laying your head down on a nice soft fluffy fresh smelling pillow.
Simple as simple can be, throw your pillows into your washer. I have a front load washer and washed two at a time. Admittedly at the end I did shove 3 in at time. I mean who really wants to wash pillows all day long. I washed all the bed pillows, then tossed them in the dryer. The key to drying pillows that come out fluffy not lumpy is adding dryer balls, which if you don't have any you make them out of old socks (in the pin below)
Now I do have some throw pillows that can't go in the washer, for those I stuck them in dryer with dryer balls and dried them on high heat for about 30-40 min.
Pin 72 Making Scented Dryer Balls out of Old, Holey or Mismatched Socks
I know I'm not the only one out there that has mismatched socks laying around. It doesn't matter how careful I am about trying to keep socks paired up, one always seems to go missing. It is down right irritating. I didn't have any dryer balls or tennis balls and I knew if I tried to dry my pillows without them they wouldn't come out quite right. I figured I could find a solution on Pinterest. You just have to love all the things you can find on Pinterest.
I loved this pin from
Camp Wander
because not only was it solving my dryer ball problem, but it made all those mismatched and holey socks less annoying. They were actually going to serve a purpose! WooHoo!
I wanted scented dryer balls, so I grabbed some lavender essential oil and 4 socks. If you just want to make the dryer balls without the scent all you need are socks.
I put 15 drops of my oil on the toe part of one pair of socks. Then balled up the sock as tight as I could. Then take that sock and shove it down inside of the other sock.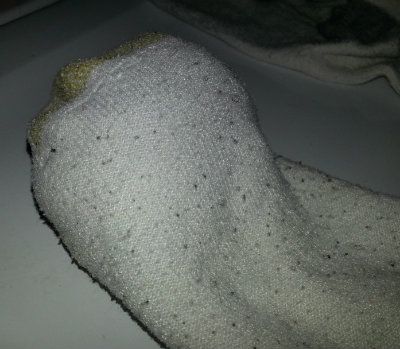 Then twist and ball up the sock. It's like twisting and folding....however you make it work, it's all about getting them tight. The tighter the better.
Then just toss them in the dryer.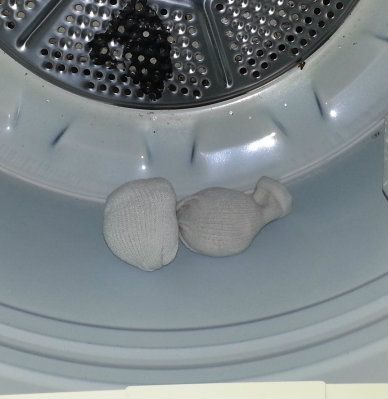 I dried about 13 separate loads of pillows and they still smelled like lavender. When your scent starts to fade, just add some more drops of your essential oil and your good to go.