Pin 69 Homemade Dry Shampoo
Not the best start to a morning, this morning. I have had about 9 hours of sleep in the last 4 days. This does not make for a happy Mom Ever since Jamey's surgery he has been having issues with a cough, and the cough is keeping us up at night. So my alarm went off at 5 am, and I drag myself into the kitchen to put the coffee on, and to get Jamey's morning medicine ready....I trip over our English Bulldog who decided the middle of the kitchen floor was the perfect place to sleep, spill the water for the coffee all over her. I take the lazy way out and get the Floormate out to soak up the water, retry making coffee.......Success this time, only to spill my cup of coffee down the front of my pj's. At this point I'm really thinking I should just crawl back into bed and pull the covers over my head, but of course I have to keep everyone on track and handle the distribution of bathroom time. As the kids are all getting ready I look for my phone.....only to realize its in my sweatshirt pocket, duh! Lots of little things continue to go wrong, get the kids out the door, which takes about 3 hours (literally) High School, Middle School, then Elementary. I sit down at the computer desk, listen to the quiet, prop my feet up and lean back, and the phone rings. I need to run to the middle school. I rush to get dressed then I look in the mirror. Scary sight it was. My girls had been "doing" my hair the night before and I looked like I had to washed my hair in grease.........look under my sink only to find that someone ( a daughter that will not be named! RYAN) took my dry shampoo. So I do what any logical mom would do that doesn't have time for a shower.....................I hop on my Pinterest! Lol! I knew I had pin from
onegoodthingbyjillee
for dry shampoo. (sorry the excessive back story, what can I say, it's just been that kind of day!)
Let me first say if you have never stopped by the
One Good Thing by Jillee
blog, it's a must see blog. I checked real quick to make sure I had everything I needed, and thankfully yes I did. It took me 5 min. to find the pin, mix it up, spray it in, and brush my hair out. Can't ask for anything faster than that.
Supplies Needed:
Spray Bottle
Water
Cornstarch
Rubbing Alcohol
Measuring Spoons
Funnel
The Funnel isn't totally necessary, but it's much easier to mix this in a bowl and then poor in the bottle. Cornstarch can be a finicky item. It likes to chunk together. I suggest adding in your water and rubbing alcohol, then stirring in the cornstarch.
The "recipe" is as follows:
1 Tablespoon Cornstarch
1 Tablespoon Rubbing Alcohol
4 Tablespoons Water
I did find that if you let the bottle sit, the cornstarch will settle a bit, so I would shake the bottle up before each use. It worked wonders, I won't ever have to buy dry shampoo again!
Pin 70 Whipped Coconut Oil as Body Lotion/Butter
I got back home, things were calm I didn't have enough time to try sneak in a nap so I figured I would try out a pin that I have been wanting to do for weeks. This cold weather has been rough on our skin. We are going through a ton of cream, and it honestly feels and looks like we are doing nothing. Dry, flaky and itchy skin. I had looked through a ton of pins for homemade lotions, and almost all of them contained coconut oil. It seemed to be every one's go to main ingredient. So I knew I wanted to try a recipe with coconut oil it, I wasn't sure what else, so when I came across a pin from
The Nourished Life
that contained nothing but coconut oil I figured it was worth a shot.
I chose not add the Vitamin E oil or the Essential Oils, because I really wasn't sure if this would actually work. I figured worst case scenario I could just throw it in a container and use it to cook with. Ignore the crack in the lid, keeping with the theme of my day I totally dropped it on the floor while getting it out of the pantry.........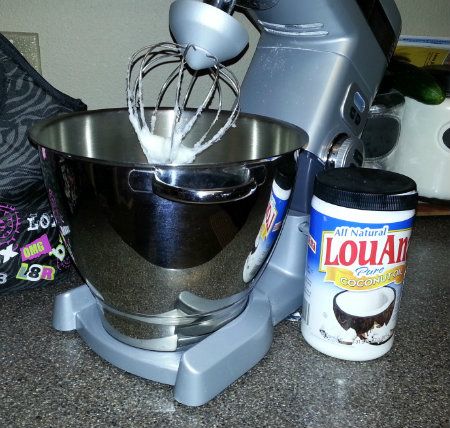 I pulled out my beloved Mixer and attached my whisk, took a few big scoops of coconut oil out of the jar and threw it in the bowl and set my timer. At first it looked like nothing was happening, but low and behold it whipped up beautifully.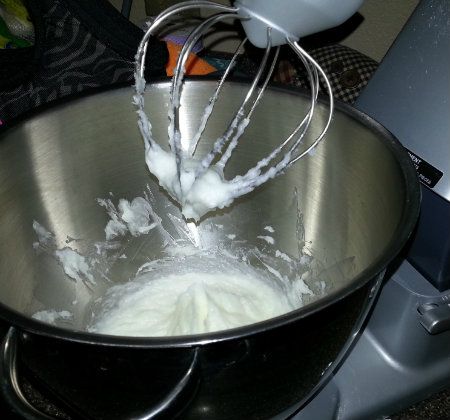 I didn't really have any containers ready to put it in, so I pulled out a throw away Tupperware type container. I spooned it into the container. I then took a deep breath and slathered some on my arms. I am in LOVE! My arms felt wonderful and it calmed the dry skin. If your not familiar with Coconut oil, it is mostly solid, and will start to melt into oil form when you touch it. Your body heat is all it takes. As you start to rub it in it will resemble baby oil, but not nearly as greasy. My teenage daughter walked in the kitchen trying to figure out what I was doing, and decided to try some on her legs. I think it's safe to say that she liked it because my container walked away in her hands. Now that it has entered the abyss known as her room I don't think it will ever be found.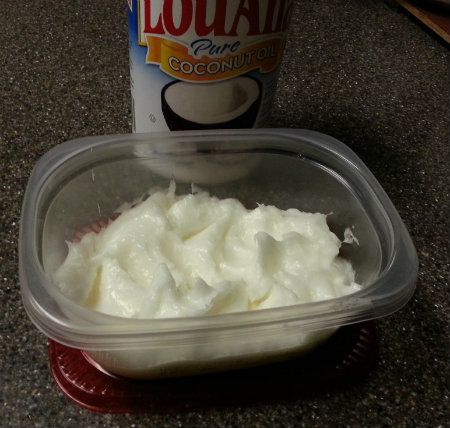 I will definitely be making more of this in the next few days, and since I know that whipping it actually works I will spend the money and get the "good" stuff.
If anybody has any other uses for Coconut Oil I would love to hear about them! I keep reading some amazing things about it.