Pin 53 Knocking out Soap Scum with White Vinegar and Blue Dawn
It is a rare occasion that I walk into my children's bathroom. They are in charge of cleaning it, since they are the only ones that use. Their cleaning skills appear to need a great deal of improvement, since it is ALWAYS a mess! Dirty clothes on the floor (the hamper is in the bathroom!) Wet towels scattered everywhere, empty bottles laying in the shower, and soap and toothpaste seem to be stuck to everything. It's a mess to the point that I almost think they do it on purpose! Lol! I couldn't help myself, I picked up the clothes and took them to the laundry room, grabbed some used dryer sheets and got the soap and toothpaste off of everything, hung the towels up, threw the bottles in the recycling and then looked at their shower door. EWWWW! It was gross! I wouldn't take a shower in there if someone paid me! This explains why they are always sneaking into my bathroom......hehe!
The soap scum was thick and I wasn't sure how to go about getting it off. I didn't want to use any heavy cleaners because they give me a huge headache. That means only one thing, I must get on Pinterest and find a pin to help me (It was a soap scum emergency, I just had to get on Pinterest, right?) I found several options, but decided to go with a few pins that had Blue Dawn and Vinegar. I haven't tried anything with these two ingredients that I haven't LOVED!
I had White Vinegar and Blue Dawn on hand ( I pretty much always do) so I got to mixing up my solution. Now I didn't use as much Dawn as these called for. These called for equal parts, and I just went with a 2:1 ration. 6 oz. White Vinegar and 3 oz. Dawn. You need to mix these a bit, if your mixture starts to suds up (which will make it hard to spray) take your salt shaker and add a little salt into your spray bottle and it should kill the suds.
You need to heat your Vinegar
. I poured my vinegar into my spray bottle, then stuck it in the microwave (without the spray top). Do not skip this step! It really does make a difference.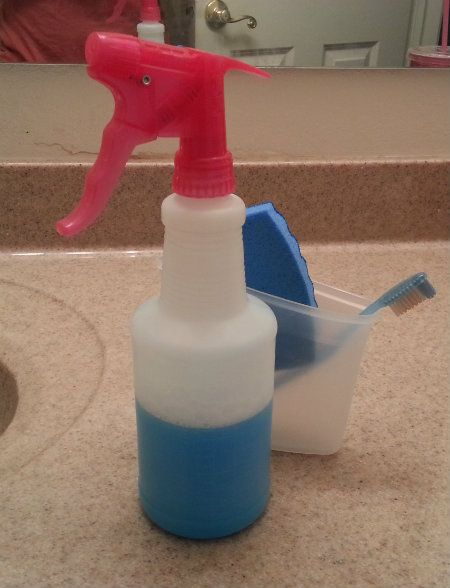 I learned that it is really hard to get a good picture while standing in a shower. These are the kids shower doors. Pretty disgusting, right?
I sprayed it on pretty thick, starting at the top and working my way down. I let it sit for about 5-10 minutes.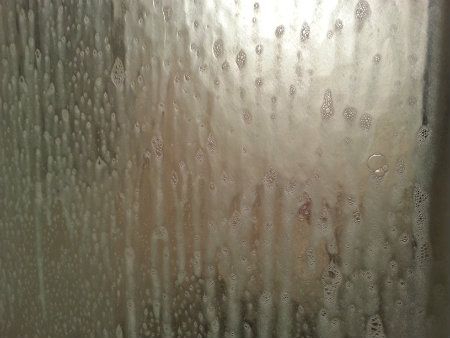 Then I took a small scrub brush and scrubbed it a little bit, nothing crazy. I just went in a circular motion.
Then I rinsed. Since I put it on thick I sort of had to help wipe away the soap while pouring water over it. Really no big deal, only took a few seconds.
I couldn't believe the difference that this stuff made. Except for a few spots where my very talented children managed to get stuff on the outside of the doors, the doors are clear again. This stuff is amazing!
Pin 54 Turning a Clementine into a Candle
I came across this pin while looking for something for my soap scum problem. It looked neat, figured the kids would like it, and thought it would smell good! So I gave it a try.
We love clementine's and always have some sitting in our fruit basket. I grabbed one, then got a knife and cutting board and we were good to go.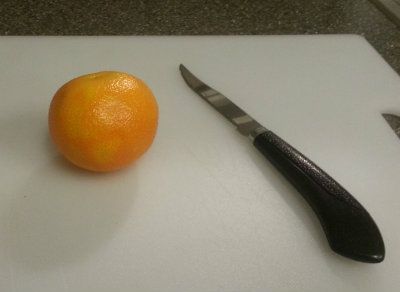 Lightly slice around the center, you are just trying to go through the peel, not the fruit inside.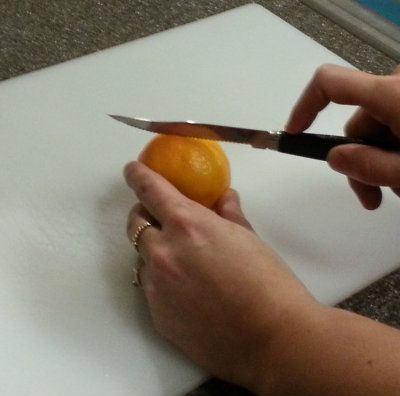 Now is where it gets a little tricky. You need to pull the peel off, keeping each half intact. You also need to keep the center part of the pulp attached to the bottom of the peel as you pull it off the clementine. I just used my thumb to feel for it and hold it down while I pulled the fruit away.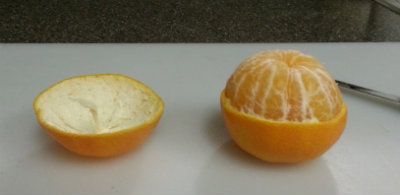 Slightly better picture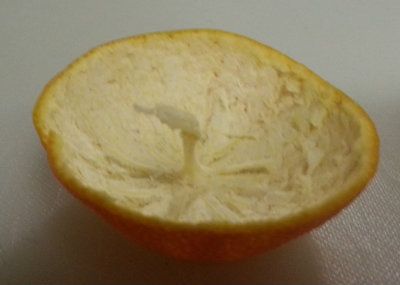 Next you are going to pour a little bit of olive oil into the bottom piece. You will need to let it sit for a few minutes so the peel and the "wick" can soak it up. While it's soaking you can cut a cute shape into the top of your clementine peel. Cute didn't workout so well for me, so I just have square, well sort of.......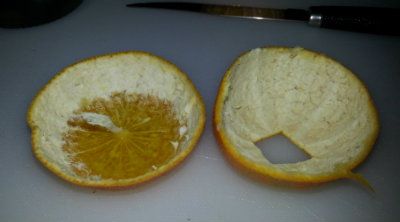 Just like you would do with a regular candle, trim your wick. If it's too long it will just burn, but not light. And trust me, that doesn't smell good. Once you trim the wick, you can light it. Mine took a few seconds to light. I used a lighter, not a match. Matches and I don't get along well.
Put your lid on the the lit clementine, and then turn off your lights (this is much cooler at night or early morning) The clementine will glow, and look pretty darn cool. My kids were pretty impressed.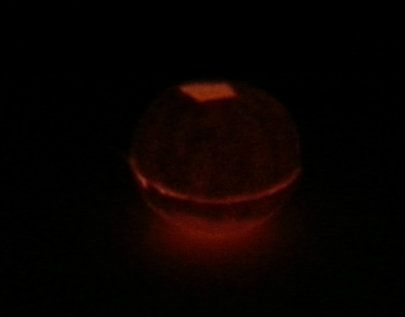 It really does look much cooler in person. This did not smell good. It smelled like burning oranges, but it wasn't overpowering. It also didn't burn very long, maybe about 40 min. My clementine also seemed to have sprung a leak. so if you try this make sure you have it sitting on something so the oil doesn't get all over. Would I do this again to use as an actual candle......No. Would I do this again as a cool activity with the kids yes, yes I would.