We have leather furniture in our main living room. Between 6 kids, 2 dogs and 2 cats it has had a rough way to go. The couches don't look too bad, but our chair just looks worn. I have used leather conditioner on it regularly over the years, but it doesn't seem to matter, 5 min. after applying it, it looks yucky again. The chair has been taken over by our English Bulldog Cinnamon. She is always laying in it, and where she lays is where it looks the worst. I needed to try and find something different to bring some life back into my chair, but wasn't having much luck. Why, oh why had I not thought to look on Pinterest?!?! In this day and age that probably should have been the first place I looked, lol!
I use Olive Oil all the time when I cook, certainly it never dawned on me to try it on my furniture. I was afraid. But the chair looked so bad...........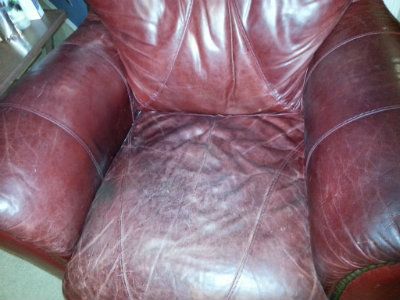 I took my olive oil dabbed it on my microfiber rag and rubbed away. After the first few swipes I got over my fear, and decided I wanted to speed up the process. Dabbing small amounts on my cloth felt like it was taking forever. I found an empty spray bottle and poured some Olive Oil in it, and then sprayed directly on the leather, then rubbed/buffed it in. It went much faster and was easier for me. The chair actually dried much faster then when I use traditional leather conditioner. There was no oily residue on the chair at all........and my biggest fear, that the dogs would try and lick the leather didn't come to pass either.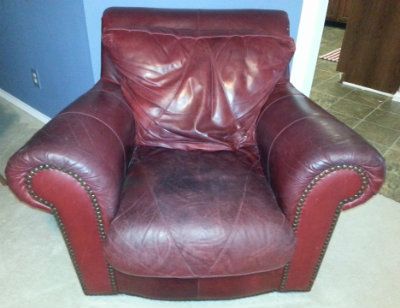 This pic is actually from a week later. This is my go to method now. If you do try this, I recommend testing a small spot on the back of your furniture. Better safe then sorry. Also learn from me! Do not leave a rag that was used to clean with olive oil on your counter. If you do, someone will pick it up and not pay attention and try and use it to clean a bathroom mirror. Then your mirror will be a mess! It took me several cleanings of my mirror to be able to see in to it again, Lol!
***UPDATE*** 12 days after this blog post almost 3 weeks after treating the chair, it still looks like it was just done. A few people raised concerns about the Olive Oil turning rancid. I called a furniture repair company in the area who works with leather and was told that as long as I just use a little, and do not do it more than every 6-8 months I shouldn't have a problem. So use this with caution and don't over do, or do it too often.