I had ultimately planned to get a few things done today, but let me tell you this darn Strep throat is kicking my butt! Only thing this Mama has wanted to do for the past week is crawl into bed, and not come back out for days! I seriously had to go with something simple, something that.........ummmm I might have started before I got sick (he!he!) but just now finished. What mom does not need a ton of magnets to hang their children's masterpieces ?!?! And the fact that this pin has glitter in it made it impossible for me to look past.
This certainly seemed simple enough, and considering I always have glitter on hand (I love my glitter!) relatively cheap. I mean you can get a pack of clothes pins at the Dollar Tree for a $1 or still pretty darn cheap even at Kroger's or Wal-Mart. Most crafters have some sort of Modge Podge on hand, and the magnets aren't too bad either if you know where to look. If you want the good magnets that will actually hold papers up and not start sliding down the fridge, you need the Neodymium Rare Earth Magnets. They come in various sizes, and let me tell you these things are pretty darn powerful. I get mine from a wonderful seller on Etsy
Sun and Moon Craft Kits
. They have some of the best prices and seriously quick shipping! I use the 1/4" magnets.
To get started you need:
Clothes Pins
Glitter
Modge Podge
Magnets
Sealant of some kind
E6000 (to glue the magnet to the clothes pin)
Tray to catch the excess glitter
To get started you need to slather your clothes pin in Modge Podge. Since I did this right after I used the tinted Modge Podge on the bottles, I just continued to use the tinted Modge Podge I already had. I figured you weren't going to see it anyway.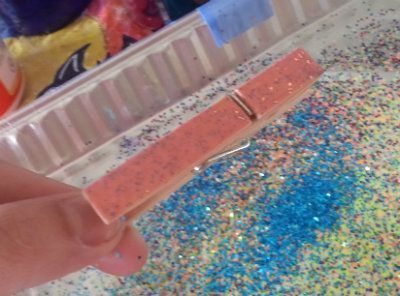 Sprinkle your choice of glitter on top of the clothes pins. I did mine two at a time. I only wanted two of each color of glitter. If you are doing several of one color, you can Modge Podge them all, then sprinkle the glitter. Once they are all covered in glitter just let them dry. You want them to dry completely before you seal them. Sealing them will prevent the glitter from rubbing off.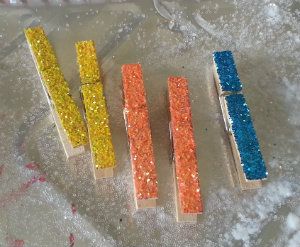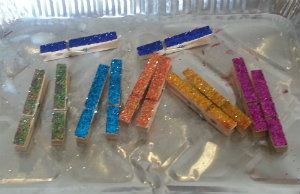 Once they are dry, seal them. I just used a clear spray paint. It was the closest thing to me. Once the sealant dries, you can glue the magnets to the back.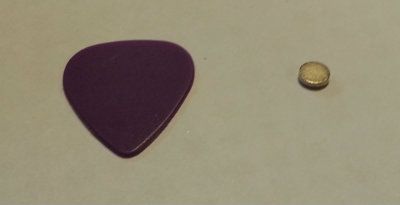 You need to use a good strong glue when you glue the magnets on. I like E6000. You can get it at craft stores or even at Wal-mart. Use this in a well ventilated area. It STINKS! This stuff is strong so don't get it anywhere you don't want it.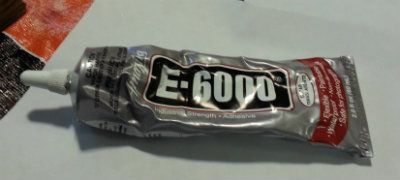 Just put a dab of the glue on the clothes pin. I found it much easier to place the magnet right over the springs on the back. If I tried to place them higher or lower they still eased there way to the metal anyway. Let them dry. This will take a little bit. When they are drying make sure you don't lay them directly beside each other, if you do you might end up with a pile of clothes pins thanks to the magnets being attracted to each other......

Once they are dry, that's it, your done.....
We'll be making more of these to go with the Teacher's gifts this year. Simple, easy and thrifty!