Holiday baking is all that was on my agenda today.....and let me tell you I do think that I am baked out. It's all fun in the beginning, but after so many batches of cookies the fun is gone! Probably because the clean-up is what's left! Almost all our baking for Teacher Baskets is complete. One more batch of cookies to be pulled out of the fridge and baked, then that's it! (at least for the next couple of days)
Pin 59 Cheesecake Cookies
I had really high hopes for this recipe. I could live on cheesecake. I thought how perfect would a bite size form of cheesecake be.........well I strongly suggest you stick with actual cheesecake. These were extremely dry. I even tried under baking a batch to see if that would make a difference and it didn't. We added a cinnamon glaze to some ( I had made it for some muffins) and it helped a little bit, but this is a recipe I won't be trying again.
What you need for this recipe:
3/4 cup unsalted butter, softened
3 ounces cream cheese
2/3 cup sugar
1 tsp vanilla extract
2 cups All-Purpose Flour
Graham Cracker Crumbs, for coating
Preheat oven to 375 degrees.
In a large bowl, beat together butter, cream cheese, and sugar, then add in the vanilla. Once they are all mixed add in the flour until well combined.
Take scoops of dough and form 1" balls. Then roll in the graham cracker crumbs. Place the balls on a cookie sheet and bake for 12-15 minutes.
and with some cinnamon glaze
At least they aren't a bad looking cookie........If anyone has made these with success I would love to hear what you did to keep them moist!
Pin 60 Lemon Crinkle Cookies
I keep seeing these posted all over Pinterest, boasting that they are amazing, award winning cookies. Who doesn't want to try a recipe that seems like a winner even before you make them!
What you need for this recipe:
½ cups butter, softened
1 cup granulated sugar
½ teaspoons vanilla extract
1 whole egg
1 teaspoon lemon zest
1 Tablespoon fresh lemon juice
¼ teaspoons salt
¼ teaspoons baking powder
⅛ teaspoons baking soda
1-½ cup all-purpose flour
½ cups powdered sugar *** For Rolling the Cookies in ***
If you want that really nice tangy lemon taste make sure you use fresh lemons, not extract or ReaLemon.
In a mixing bowl cream butter and sugar together until light and fluffy, then add in the vanilla, egg, lemon zest, and juice. Stir in the dry ingredients until just combined. DO NOT ADD THE POWDERED SUGAR. Put your powdered sugar in a bowl. Take a teaspoon full of dough, it will be slightly sticky, roll it in the powdered sugar and place on the cookie sheet, continue till your cookie sheet is full. I found that it helped if I dipped my fingers into the powdered sugar then took the dough and rolled it in the sugar. It kept the dough from sticking to my fingers. Bake for about 9-11 min.
These were pretty good. Not the best Lemon Cookie ever, but good none the less. They weren't zesty enough for us so we added a Lemon Glaze. Just squeeze a few Tablespoons of fresh lemon juice and mix in powdered sugar till you get a consistency you like. Then just drizzle over the cookies. This gave them a really nice lemony kick.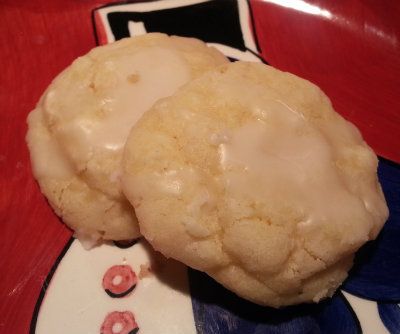 Pin 61 Chocolate Crinkles with Candy Cane Hershey Kisses
These babies were the star of the show! This recipe made well over 50 cookies, smelled great while baking, and even better when cooling with a candy cane kiss on top. If you love chocolate and peppermint like I do this is a must try.........if you don't you can still try the recipe and add whatever kind of Hershey Kiss your heart desires!
What you need for this recipe:
2 cups all-purpose flour
1 cup unsweetened cocoa powder
2 teaspoons baking powder
1/2 teaspoon salt
2 cups granulated sugar
1/2 cup vegetable oil
4 large eggs
1 teaspoon vanilla extract
1 cup powdered sugar *** This is for rolling the cookies in ***
Assorted Hershey Kisses
These need to be put in the Fridge for a few hours after they are mixed up.
Bake at 350 degrees (Always preheat an oven when baking, unless otherwise stated)
Mix together sugar, oil, eggs, and vanilla. DO NOT ADD THE POWDERED SUGAR. Stir flour, cocoa, baking powder and salt, stir just until combined. You don't want to over do it. Then cover and put in the fridge for a few hours.
Roll into balls, we did about little over a teaspoon. Truthfully I just went with whatever looked good to me. Roll the ball in the powdered sugar then place on your cookie sheet, continue to your sheet is full. Bake for about 11 min. You should see your cookie start to crack, once they are cracking and the cracks look cake like you can take them out. Place your Hershey Kisses of choice on top as soon as they come out of the oven. Let cool on the cookie sheet for a few minutes before transferring them to cooling racks.
My air bake cookies sheets are non stick, if you are using regular cookie sheets, or something that is non stick, I recommend using some parchment paper while baking these.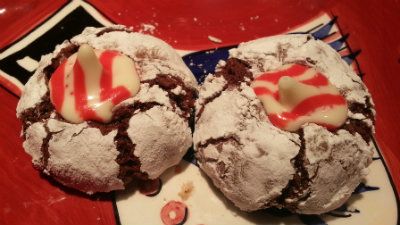 These were almost like eating Brownies. The melting kisses just add to the yumminess of this cookie.
Pin 35 Re-Visited M&M's instead of Chocolate Chip Cookies
We also made some cookies using the recipe from the chocolate chip cookies featured in pin 35. You can get the cookie dough recipe
here
. Only thing we did different was add in some red and green M&M's. It's a nice change and the cookies are a hit with kids and adults alike.