Home style Yeast Bread
Nothing makes a house smell better then fresh baked bread! I love homemade bread and was spoiled by it growing up. My mom was always making bread. Very Yummy bread, I might add! Since I got to watch and help my Mom, I realized that making bread was nothing to be afraid of, and that a Bread Machine is not a necessary object. No offense to those that have one and love it......I like to knead my bread (especially if I'm stressing! What better way to release stress then to beat a thing of bread dough, lol!) I have a tried and true recipe, that I don't really share. It's not that it is really a secret, just I don't really measure everything. This pin is pretty close, and is really really really really really good!
Gather all your ingredients. This way you can make sure you have everything before you begin and if you put it away as you use it, you can make sure you don't forget to add anything! Which is helpful if you are easily distracted like me.
For this bread you need:
1

4

oz
active dry yeast
2 cups

warm water (110 degrees to 115 degrees)
1 cup
sugar
1/

2

cup butter (margarine melted)
1

1

2

tsps
salt
2
beaten eggs
7 cups
bread flour
I don't use bread flour most of the time, and I have never had a problem. I also just run the water till it feels warm over my wrist.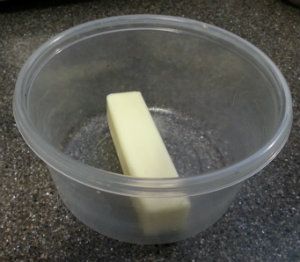 Once you have your yeast, water, eggs, sugar, salt and butter mixed together in the bowl you can start adding your flour. If you are mixing by hand I suggest starting with a cup at a time. If you are using a stand mixer with a dough hook, then you can usually start by adding your first four Cups of flour at once. After the the first four cups, then start adding one at a time. It usually takes pretty close to 7 Cups. I let my mixer do most of the work today because I still don't feel good. I stopped it when it only needed a few min. of hand kneading.
Spread a little bit of four on your dry clean surface. dump your bread dough onto the floured area, and just go to it. I basically just keep folding my dough over, into itself, pressing down and repeating. If I'm upset and doing my bread, I've been known to punch it......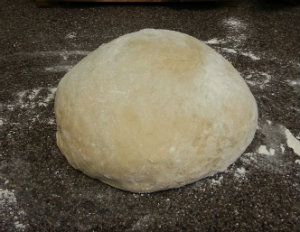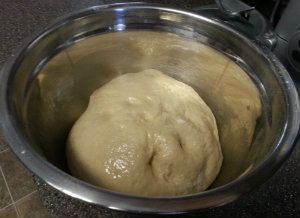 I put my dough in a slightly oiled pan, just enough to barely coat to prevent any sticking, then I cover it with a towel. Since I'm also going to be baking some cookies I have my oven preheated, so I set the pan on the top of my stove top to cut down on the rising time.
Now at this point you can handle your bread any way you want. This dough is versatile enough to be rolled out and turned into cinnamon bread, you can shape it and put in loaf pans, or my favorite way to do bread.........braid it. I like to braid bread for two reasons, its what my my Mom did most of the time, and when you have a big family and not everyone is capable of cutting their own slices they can break of pieces easier. I bake two braided loaves at a time, on separate air bake cookie sheets, one goes on the top rack of the oven and the other goes in the middle. I set my timer in 10-15 min. increments and switch them up. If you baked them in loaf pan you wouldn't have to worry about that since they could both fit on the middle rack.
The finished product not only tastes delicious (so good, that I had to bake a second batch just to get a picture, since the first batch disappeared before I could blink my eyes!) It's looks pretty darn good too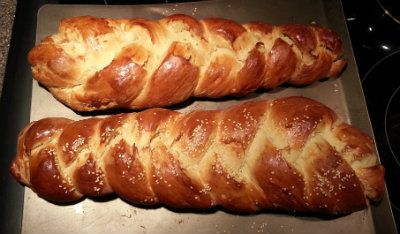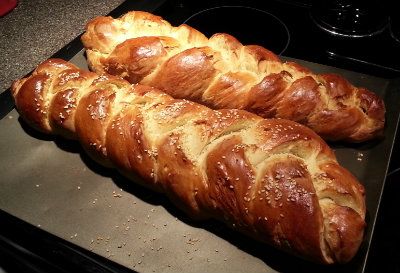 This is the first bread recipe that I have tried that has made me think about retiring "my" recipe. This easily could be my go to recipe.
Texas Sheet Cake
Another thing my Mom made a lot while growing up was Texas Sheet Cake. I just loved this stuff, and my kids have come to LOVE it too! I've tried a few pins of slightly different recipes, and just weren't happy with them, so when I came across this pin it was perfect. Only difference is that it called for buttermilk, instead of soured milk (milk, with a touch of vinegar) which works pretty much the same way.
INGREDIENTS
2 cups all-purpose flour
2 cups granulated sugar
1 tsp. baking soda
1 tsp. ground cinnamon
1/4 tsp. salt
pinch chipotle chili powder (optional)
3/4 cup water
1/2 cup butter
1/4 cup unsweetened cocoa
1/2 cup buttermilk
1 tsp. vanilla extract
2 large eggs
Frosting:
6 Tbsp. butter
1/3 cup milk
3 cups powdered sugar
1/4 cup unsweetened cocoa powder
2 tsp. vanilla extract
pinch of chipotle powder (optional)
1/4 cup chopped pecans, toasted (optional)
I left out the chipolte......and when I added the butter, water and cocoa I first melted everything together in the microwave, then poured into my batter. I didn't take any pics of the process, just of the finished product.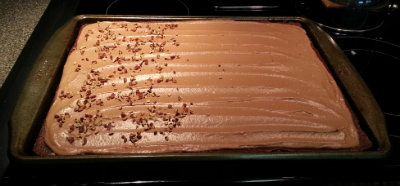 I only put nuts on a small part since most of the kids don't care for nuts. This was good, but I still prefer my Mom's recipe.