With so many picky eaters in the my home I feel like I get stuck on the dinner merry go round. We seem to eat the same things again and again. For dinner tonight I wanted to try something new. I have looked at this pin for about a month debating whether or not to try it. My debate wasn't about whether it looked delicious or not, but that my picky kids would turn their noses up to it........
I decided tonight I was going to try it. I already had planned on pork chops anyway. The recipe is for 6 pork chops. I doubled mine.
For the Breading:
1C Flour
2 tsp. Salt
2tsp. Black Pepper
1 1/2 TBSP Ground Ginger
1 TBSP. Ground Nutmeg
1tsp. ground thyme
1 tsp. ground sage
1TBSP. paprika
1/2 tsp. cayenne pepper
Egg White Wash:
2 Egg Whites
2 TBSP Water
Mix up your breading in a bowl/pan that will be easy to dip the pork chops in. Then mix up your egg white wash. You can either use just egg whites or add a TBSP or 2 of water to it. While you are mixing up your breading and wash, have the oil in your frying pan heating up. Put in enough oil to cover the whole bottom. I also preheated my oven at this point. I just fried mine enough to get a nice crispy golden brown coating on them then transferred them to a cookie sheet/baking dish lined with parchment paper, covered them with foil then baked them till they were done. I had to fry two batches, so by baking them we could all eat at the same time.
Take a pork chop dip into the flour/breading mixture, then dip it into the egg white wash, then dip it into the flour mixture again. Lay it in your frying pan gently! The first one I did fell in and not only made a mess but splashed hot oil onto my hand. OUCH! Continue till your pan is full. Once both sides are browned transfer to a baking sheet if you are going to finish them off in the oven. If you are frying them all the way, make sure you don't have your heat up too high, or the outsides will brown too quickly and the middle will still be raw. Low steady heat works best.
While the pork chops are cooking it's time to mix up your sauce
Sauce:
2 TBSP. Olive Oil
5 Cloves Garlic (we used 8)
1 C Honey (we used 3/4 C)
1/4 C Soy Sauce
1 tsp. black pepper
Put your olive oil in a small sauce pan to heat, then add in your garlic. I found leaving mine in cloves and then smashing them into a paste once the heated worked best. Once this is done add in your Honey, Soy Sauce and black Pepper. We didn't dip our pork chops into the sauce, we just drizzled some over the pork chops once they were on the plate. Some of us wanted more on ours, and some didn't want any.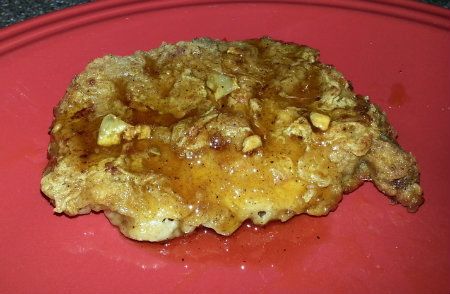 These were good. They were crispy outside, moist on the inside. The sauce is a bit sweet, so if your not found of sweet on your meat.....bypass it. The meat without it is just as good and flavorful. I liked the sauce, and half the kids did too. I will be making these again, though I might see what I can do to change up the sauce.