A little while back I showed how to clean out your old candle jars (
Pin 22
). It took me a while to figure out what I wanted to do with them. The bigger ones I knew I wanted to put in the kids bathroom for cotton balls & qtips, but the smaller ones I figured would still hold candles. I didn't want them to be boring, but couldn't figure out how to spruce them up. I searched through my pins, but nothing really "spoke" to me. So I sat staring at my screen, all my boards were pulled up, I was just staring and staring at all the board covers.....why was nothing moving me?!?! I had been concentrating on my craft, upcycle and for the home boards. Turns out I should have been paying attention to my Easter board. My poor Easter board only has one lonely pin, but turns out it was just the pin I needed.
Now I know that these are Easter Eggs, but they gave the inspiration to put glitter polka dots on my candle holders. All you need is Glitter, which I love, and Glue Dots, which I love!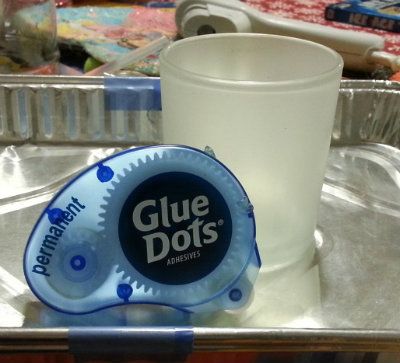 Take whatever container you have that you would like to add glitter polka dots to and make sure it is clean. Then just place your glue dots where you want them. Ignore the spray paint on my hand, and the glitter I already managed to get on the candle.....(What can I say, I'm just having a messy day!)
Now it's time to glitter......I LOVE glitter! Fine glitter worked much better. The easiest way I found to apply the glitter was to dip my finger in it then tap it onto the glue dot. It wasn't as messy this way, and the glitter stuck better since I was pressing it into the glue dot. This is a really quick project.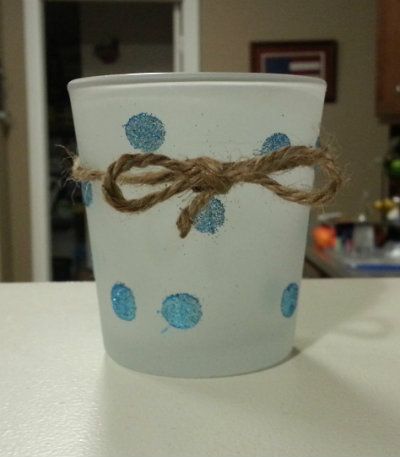 Ignore the fact that I didn't really brush the loose glitter off yet.......I was in a hurry to move on to my next one. Trying to finish up crafting for the night so the kids and I can settle in and watch Ice Age Continental Drift. Gotta love family movie nights, especially when they will be illuminated by my newest glitter polka dot creations.