We are spending our week doing a lot of baking. Tons of tins waiting to be filled up and given as gifts. Usually I like to "test" a recipe first, not try it for the first time when I'm giving it away, but I just couldn't help myself. Sometimes you just get tired of making the same 'ole things.....
Pin 57 Brown Butter Chocolate Chip Cookies
Ok, seriously who knew that browning butter could make a cookie taste so different. Browning the butter takes the chocolate chip cookie to the "gourmet" level. After making these I wrote the recipe down in my recipe book labeled "The Grown-Up Chocolate Chip Cookie".
Source:
heathersdish.com
via
Nicole
on
Pinterest
Now if you have never browned butter before, don't sweat it. It's all about timing. You just melt your butter, and continously stir, and after a few minutes you will see your butter go from a yellowish color to a brownish color, when this happens take it off the heat ( DO NOT STOP STIRING) after you take it off the heat continue to stir for another 30-40 seconds. Allrecipes has good tuturial with pictures
here
.
For this Recipe you need:
1/2 cup loosely packed brown sugar
3/4 cup oats (not quick-cook)
I had planned on taking some detailed pictures of the the mixing and baking process, but my camera/phone decided to walk away. It walked away in my teenage daughter's hands whose phone broke!
Directions:
Preheat your oven to 375 degrees
In a small saucepan brown your butter. if you aren't sure how to do this follow the link listed above
In a mixing bowl, mix together the flour, baking powder, salt, cinnamon and oats. Set aside.
Let the butter cool, then mix with your dry ingredients. Add your chocolate chunks. If your dough is slightly sticky throw it in the fridge for about 30 min. Mine was good to go, so we skipped the fridge.
Drop by tablespoons or use a cookie scoop (love my cookie scoop!) on to your pan. Bake 10-12 minutes, or until the edges and bottoms are golden brown. Mine were closer to the 10 min. mark, but it really does vary by oven.
This recipe made 17 cookies. These cookies are crisp on the outside and soft and chewy on the inside. The touch of cinnamon and oatmeal on top of the brown butter really dress this cookie up. One word.......YUMMY!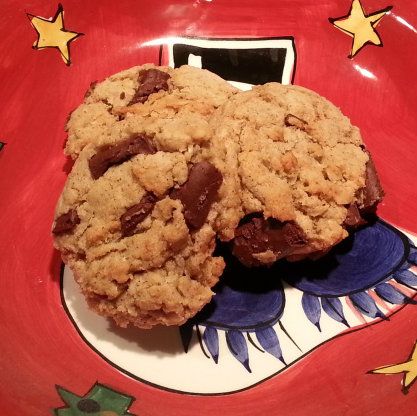 Pin 58 Mexican Wedding Cookies
These are one of those cookies, that I dare you to eat just one! These babies just melt in your mouth....seriously just melt in your mouth.
I first had these when I was a kid, my Mom would make these and they were always wonderful. I couldn't find the recipe (Which I KNOW is somewhere in my kitchen) so when I saw this on Pinterest I was forced to make them. My mouth was watering just thinking about them. I had no doubt this recipe was safe to try since it's from the same blog as the
Butterscotch Gingerbread
cookies I tried earlier. If you love to bake, or are looking for some awesome recipes check out
Baked Perfection
. It is an awesome Blog!
For this Recipe you need:
1 cup
butter
1/2 cup white sugar
2 teaspoons vanilla extract
2 teaspoons water
2 cups all-purpose flour
1 cup chopped walnuts (can use pecans as well)
1/2 cup confectioners' sugar
We left out the nuts since most of the kids don't eat them, but the next batch I do think I will add them, so they won't disappear as fast!
Preheat your oven to 325 degrees.
In a medium bowl, cream the
butter
and sugar (Just the white sugar!). Stir in vanilla and water. Add the flour and almonds, mix until blended. Cover and chill. I put mine in the fridge for about an hour. It was pretty thick to begin with.
Roll your dough into balls and place on a cookie sheet. You can place these pretty close together because they don't expand very much at all. I had 3 dozen on one air bake cookie sheet. Bake for about 15-20 min. When you take them out they may not look like they are done. That is how they should look.
This is what mine looked like coming out of the oven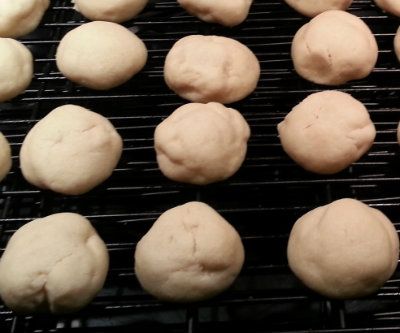 Let them cool, then roll them in the powdered sugar. These little critters are really simple, don't have a lot of ingredients but are so darn good it's ridiculous! My kids were literally fighting over them! It's no exaggeration to say that these melt in your mouth. I didn't even dare eat one, because I knew I would not be able to stop at just one.....or even two!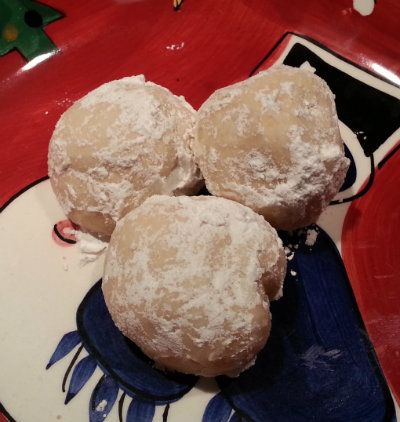 If you make these to give away, I urge you to make a separate batch to keep at home.......