Yesterday I got all my errands run, and reclaimed most of my house (which took FOREVER) but I failed to put away all the Christmas Decorations! Am I the only one that hates taking down all the decorations? It's not that I hate putting them away, I'm just not a fan of how empty and boring everything looks when they are gone. It always makes me a little sad. So I decided to put my time to a "better" use, and search my Pinterest boards for a few projects......
Pin 73 Crochet Owl Hat
Over the Christmas Break it snowed, and it snowed a lot. In fact we still have piles of snow everywhere. Don't get me wrong, I love the look of a fresh snow, but it's been around a while and it's starting to look messy, dirty snow isn't so pretty........Oops! Back on point, because of the snow and cold everyone was wearing hats everywhere we went, and my children have a real talent, losing their hats. I'm not lying when I say we probably lost about 10 hats over a 2 week period. Which is really sad because with everyone sick we pretty much only left the house for hospitals, dr's appts. and trips to the grocery store and pharmacy. The girls have been asking for an owl hat for ages, so I was happy that I happened to have a pin for one that included a free pattern!
If you have never stopped by the
Repeat Crafter Me
blog, you have to go visit it.....It's a fantastic blog, and has some really great projects for you to try. This blog offers the owl hat pattern in many sizes, ranging from newborn to a large adult.
Since there are such great instructions and pictures on the
Repeat Crafter Me
blog, I didn't take any pictures of the actual process. It also would have been hard to take pictures, since I started working on this while I was in the car waiting on one of the kids to get out of track practice, then again while waiting on another to get out of wrestling practice. I love projects that I can throw in my purse and work on while I wait!
The whole hat took about an hour. I decided to try the Teen/Adult size. I'm glad that I didn't go any smaller. The hat snugly fit my 8 & 9 year old girls. Any smaller and they wouldn't have fit at all. Next one I do I will increase the initial round by a few stitches. I admit I crochet extremely tightly so this could have been part of the issue. I'm also a lazy crocheter, I do not tend to check my gauge when I'm crocheting for me and mine.....If you follow the teen/adult hat I found that starting with 10 DC in the magic ring, then following the same formula for increase led to a more comfortable fit for my girls.
Now I have to say I wasn't impressed with the hat at all.....then I attached the eyes and the owl hat started to come to life, but once you attach the nose it really all comes together, so if you start the hat and you think it's boring hang in there till your all finished! It's will be worth it!
When it came to the eyes, I opted to do the center of the eye brown instead of using buttons. I like the look better. I didn't measure anything, I just laid the eyes on the hat where I thought they looked best and used a piece of yarn and "sewed" them on. I had cut my tail to short, or I would have used it to attach the eyes to the hat. Once the eyes were on, I made and attached the nose.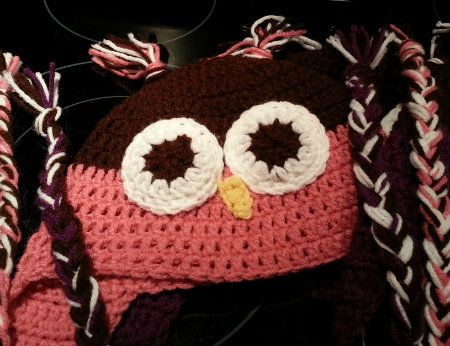 Currently working on one in Ohio State Buckeye Colors. Hope that it turns out as cute as I think it will.
Pin 74 The Crochet Divine Hat
Ok so in all honesty I have made this hat before.....many times. This is, and has been, my go to hat pattern if I need a hat in a hurry. I'm fitting it into my blog since I have it pinned to my Pinterest Boards. This pattern works up quickly, and looks fine without any embellishments. The spiraling of the hat really stands out.
Do not be fooled by the picture. This really is one of those things that looks so much better in person.
The pattern is shared for free, in Adult, Preemie and Infant sizes at
Rheatheylia
. For the adult hat I add one more round of the spiral, and one more round of the bottom edging.
The "Divine" hat looks great plain, but my girls loved adding flowers to their hats. So we added a few, the other hats they want me to add pom-poms too, but I haven't gotten to that yet.
I just got to love my girls......they just woke up for school this morning and I realized that I had somehow deleted the pictures I had taken before so they put on a few of the hats for me before they were even really awake.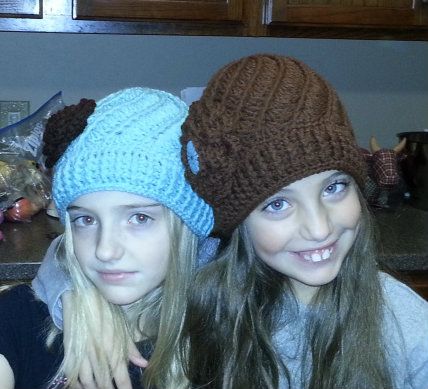 For me, this hat took about an hour start to finish. Now I'm off to make a few more hats.......