Ok, so all the kids went back to school today! WOOT! WOOT! Now don't get me wrong, I really do love having my kids around, but this Christmas break just felt unusually long. Each child decided to get sick and my oldest son had surgery, to top it off the Hubs got sick too! Why do men revert back into children when they are sick?
I needed a project that would keep my hands busy, that wasn't complicated, and was something that I could pick up and put back down without losing my place. I also wanted to do something that would help shrink my yarn stash. I haven't bought yarn in months and I'm determined to not buy any (unless needed to finish a project) until I use at least half my stash up. Blankets tend to be yarn eaters, especially when I make them, because honestly, who wants a blanket that doesn't cover you all the way up. I wanted just one color. Weaving in a gazillion ends wasn't an option with my stress level. I settled on this pin.
this one would work too......
The stitch works up really quickly, and makes for a pretty heavy blanket that will actually keep you warm even when using plain old Red Heart Super Saver. The texture in the stitch helps keep a solid color blanket from looking boring.
I worked on this blanket over the course of the last two weeks......I didn't take any pictures while I was making it because quite frankly there was nothing I could show you that you can't find on YouTube. I didn't measure my blanket but it will cover my son who is 6'4" tall, all the way from the neck down to the toes with enough to curl under his feet. I used 4 (maybe 5, I just can't remember) 1 lb skeins from Caron.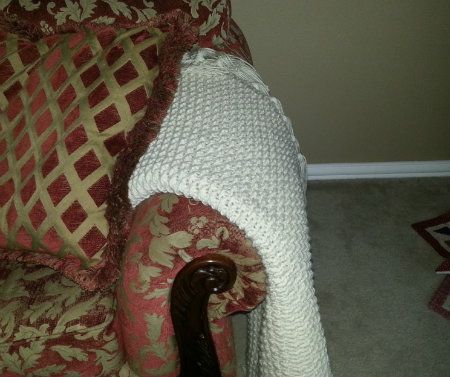 I finished mine with a fringe on the ends.....It would have looked fine without it, but I was determined to use up every last bit of the yarn. Here is a better look at the texture.
I think I have some catching up to do. I think I might work on some Granny Squares, I haven't done them in forever and it would be a great way to use up a lot of yarns that are partial skeins, now to find a pin for inspiration.