Mondays are pretty much weekend recovery days. I spend a lot of the day picking up and cleaning. I was finishing up the downstairs, walked into the pantry to grab my handy bottle of Febreeze. I picked up the bottle and for some reason I looked at the ingredients. I'm not sure why I did. Maybe it's because I've slowly been trying to go "green", or it could just be because I picked the bottle up backwards. Whatever the reason the things I saw were a little scary. The amount of ingredients were scary in and of themselves. I don't like reading ingredients and having to look them up. I want to to be able to recognize them and know what they are. I figured there had to be a better option out there.
I stumbled across this first.....
It sounds like it would work, and if you visit
Homemade Mama's blog
you will find a recipe for homemade Febreeze that uses just a small amount of liquid fabric softener, baking soda and water. Simple enough, but the more I thought about it I decided to look for something different. If I'm trying to make the move away from commercial products I wanted to find something I could use that didn't require a commercial cleaner/softener. Though I will be keeping my eye out for greener fabric softeners because I know ultimately I won't be able to help myself and will want to try this!
I kept searching a bit and finally found this pin.....
This was more along the lines of what I was looking for. It only requires Water, Vinegar and your choice of Essential Oil. I'm usually a lavender kinda girl, but I chose to go with Sweet Orange instead.
The Recipe is listed over at
Country Momma Cooks
. Stop on over and give the blog a visit. I promise it will be a pleasant experience, and she has other great ideas for getting "greener" with your cleaning & laundry. She is also extremely generous and has a pretty printable label ready to go for you to print out and put on your bottle.
Just gather everything you need:
1/2 C Vinegar
1 1/2 C Water
12-15 drops of Essential Oil
Spray Bottle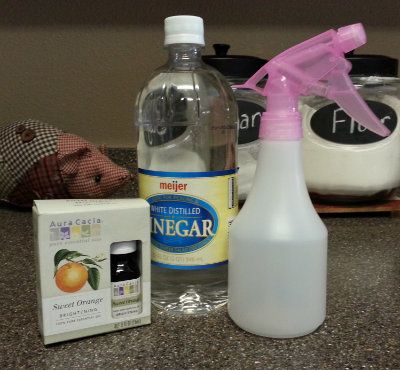 Pour everything in your spray bottle and give it a shake, then spray away. I did notice when I first sprayed it I could smell hints of vinegar, but it quickly faded. Now this spray isn't going to give you a "heavy" perfumed smell. It's going to give you a light fresh clean scent. This for me will be the hardest part to get used to. But I didn't mind the smell the freshness. I'm slowly getting used more natural smells.
*Because this contains an oil & vinegar you will want to give the bottle a good shake before each use.