Have made my fair share of Chocolate Chip Cookie recipes over the years. With 6 kids we go through a lot of cookies! For the longest time I would keep reverting back to the Nestle Toll house Cookie Recipe. Then one day while going through recipes at AllRecipes.com I found this.
It differed from the normal recipes I used....It has Cream of Tartar in it and it has you dissolve your baking soda in hot water before you add it in. Seemed a little odd to me, but why not give it a try!
Once again, gather everything you need, and put it away as you use it. If your like me and forgot to set out your butter, your first step will be putting it in the microwave for a few seconds.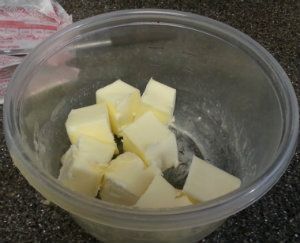 It's important that you only put it in for a few seconds. I think I did 10-15. You just want to slightly soften it, not melt it. Dump it in the bowl for your mixer, then add your white and brown sugar.
Once you have creamed the butter and sugars add in your vanilla and your eggs one at a time. Next get a small bowl and put your baking soda in it, then add your hot water and dissolve. Then add it to your main bowl.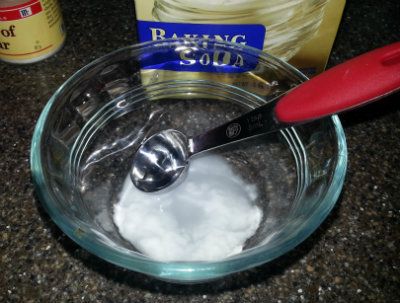 Add in the rest of ingredients and remove the bowl from your mixer....You should have a pretty stiff cookie dough.
Add in chocolate chips of your choice. I went with the first thing I grabbed. I left out the nuts so all the kids could eat these cookies.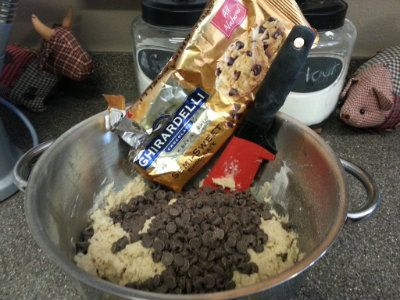 I prefer to bake my cookies on air bake cookie sheets. They help prevent me from burning the bottoms of the cookies. I also always use a cookie scoop. This saves me from hearing "His cookie is bigger than my cookie"
The recipe says they take around 10 minutes to bake. Every one's oven is different. I set my first tray at 9 min. then checked on them. On average they took around 12 min. in my oven. Can I say Thank Goodness for oven timers! If I didn't use mine I would ruin so much food.......I get too easily distracted.
Just let them cool a brief minute, then remove them and put them on cooling racks. Make sure you test one before they are completely cooled off.....It's a must! This recipe made 31 cookies. I think they are pretty darn good. The kids were in LOVE with them. They asked for more this weekend.