Took a few days off for the holiday and for football, and was trying to decide whether or not to still blog about a few of the pumpkin desserts that I tried over Thanksgiving. I'm going to go ahead and share because not only were they delicious, but I know my family still tends to do pumpkin deserts for Christmas too.....
The Pumpkin Roll
Now Pumpkin Rolls are a tradition in my household. I think my kids look forward to the pumpkin roll more than the turkey itself. We don't even usually do a pumpkin pie. I pinned a few recipes that are pretty similar to the one I usually use.
and
I always start by putting all my ingredients on the counter in one area. I do this so I can make sure I have everything and as I use them I put them away so I know if I have forgotten to put anything in. When I don't do this I usually forget to put something in, and remember after it's too late!
Cake:

3/4 cup all purpose flour
1/2 tsp baking powder
1/2 tsp baking soda
1 tsp cinnamon
1/4 tsp ground cloves *
1/4 tsp ground ginger
1/4 tsp ground nutmeg
1/4 tsp salt
3 eggs
1 cup sugar
2/3 cup pumpkin puree*
Filling:
8 oz cream cheese, softened
6 T unsalted butter, softened
2 T maple syrup
1 tsp vanilla extract
1 cup powdered sugar (plus more for towel and dusting)
*I don't usually add the cloves. My kids don't really care for the taste. I also had half a bag of mini chocolate chips to the filling of the pumpkin roll. A normal can of pumpkin will make two rolls.
First you are going to make the cake portion. This doesn't take long at all.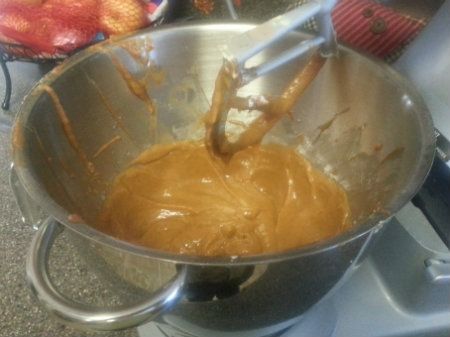 Next you'll want to take your Jelly Roll pan and prep it. I used to use parchment paper to line my pan, but found it is actually easier to use Wilton's Cake Release. Just pour some in and use a pastry brush to spread it all around.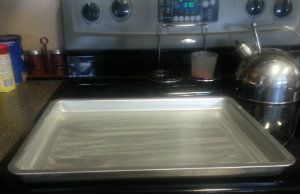 Pour your mixture into your pan and put it in a preheated 375 degree oven for about 15 minutes. Since ovens vary keep an eye on it. Pull it out when you can stick a toothpick in the center and it comes out clean. Once you pull it out of the oven you are going to want to take it out of the pan. I flip mine onto a cooling rack lined with parchment paper. Before it cools completely you'll want to to take the pumpkin cake, with parchment still under it and lay it on a thin towel. Sprinkle powdered sugar on top of it, then take the tip of the towel and cover the edge and then roll.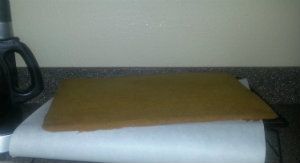 Then just throw it in the fridge. I left it in the fridge till the evening because I was doing other things, but you really just need to leave it in long enough for it to completely cool off.
While the Cake part is cooling you can mix up your filling (this stuff is way too good!!!) Once you have it mixed up, take your cake out of the fridge and gently unroll it. Spread your mixture evenly through the whole cake, not too thick though or it will be hard to roll back up. Once you have it all spread out just roll it back up. I just re wrap mine in the parchment paper and put it back in the fridge till I want to serve it. When you go to serve it, you can trim the ends to look neat and sprinkle some more powdered sugar over it.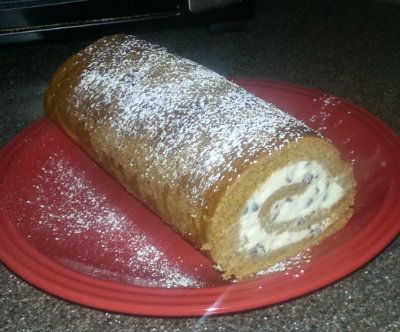 My kids will literally fight over the last piece.
Pumpkin Cream Cheese Bread
How can anything baked with Cream Cheese in it be bad?!?!?! My theory, it can't! So I decided this pin was definately worth a try. This was the first time I attempted this. The picture for this pin makes me want to make it again, right this very minute!
You need to make the pumpkin and cream cheese mixtures seperate. Not really a big deal, one more bowl in my sink on a baking day won't even be noticed.
FILLING
1 package (8 ounce) cream cheese, softened
1/2 to 3/4 cup sugar (depending on how sweet you want the filling to be)
1 Tablespoon all-purpose flour
1 large egg
1/2 teaspoon vanilla extract
BREAD
1 2/3 cups all-purpose flour
1 teaspoon baking soda
1/2 teaspoon salt
1/2 teaspoon ground cinnamon
1/2 teaspoon ground cloves
1/4 teaspoon ginger
1/4 teaspoon nutmeg
1 to 1 1/4 cup(s) pumpkin puree, canned or homemade
1/2 cup canola oil
2 large eggs
1 1/2 cups sugar
1 cup chopped pecans or walnuts
CINNAMON GLAZE
1 cup powdered sugar
2 to 2 1/2 Tablespoons half & half
1/2 to 1 teaspoon cinnamon
1/2 cup chopped pecans or walnuts for garnish
I will definately be using this Cinnamon Glaze for other things, so simple, but yet SOOOO GOOOD! Most of my kids do not eat nuts in baked goods, so we subsituted some chocolate chips in their place.
This was a good option to the pumkin roll for us, it's not as sweet, but will still satisfy your sweet tooth. Pumpkin Roll is really rich and sweet.
Gather all your ingredients and prep your pans. I once again used Wilton's Cake Release, love this stuff! Fill your pans with half your pumpkin mixture. I didn't do so well with this part, but it's ok because once you spoon in your cream cheese mixture, then the rest of your pumpkin you will swirl then all together.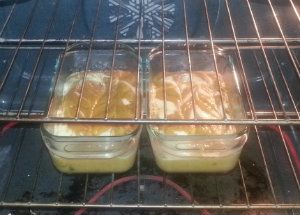 Once they came out of the oven I made my glaze, it took like 2 seconds. Dribbled it on top and they were ready to be eaten. One loaf disappeared before it could even cool down (Yummy while warm!)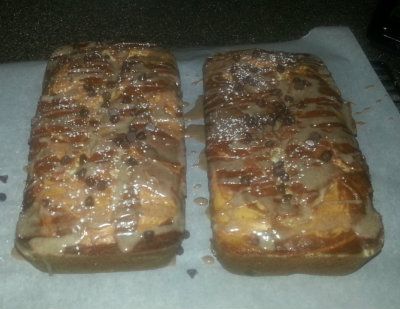 I will be making these many more times. In fact I might be making more of the bread as soon as I log off........