Mondays are wrestling days in this household. If it were your typical school wrestling things wouldn't be so hectic, but the boys go to a wrestling "club" about 45 min. away. The drive and time of day is a huge pain in the butt. The club is one of the top rated clubs, not in the state, but in the country. Humphrey Wrestling is beyond excellent! Dinner...............it is an almost impossible task on wrestling days. First we have track conditioning that ends in just enough time for me to go pick them up, switch out a few kids and head out to the wrestling club. We get back pretty late, so everyone eating together isn't in the cards. A lot of times (more times then I would like to admit) we eat quick meals.....aka whatever anyone can find, whether it be leftovers or something for the microwave. When I'm thinking ahead I use my crockpot. I LOVE MY CROCKPOT!!!! Trying something new to me, Crockpot Creamy Chicken.
Checked to make sure I had everything I needed then got started. Normally I use crockpot liners (best invention ever!) but since I first had to soften the cream cheese, and stir it in with the cream of chicken soup and seasoning I opted to go without. Since there are a lot of us I doubled the recipe.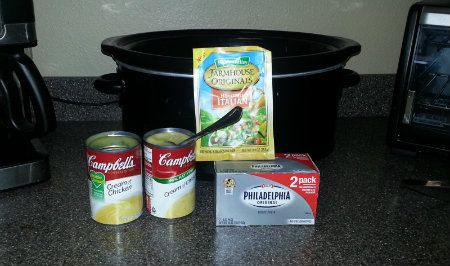 This made the whole house smell good. The chicken shred extremely easily. I made brown rice for this to go on top of.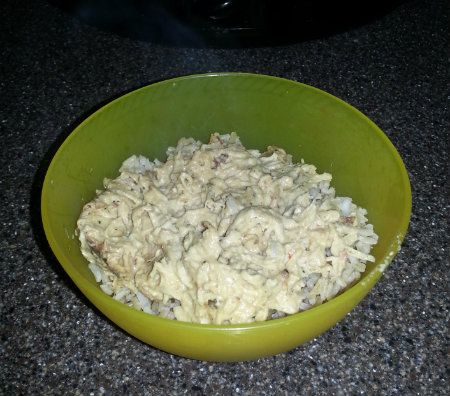 It definately doesn't look appetizing. Some fresh cut herbs or other garnish probably would have helped the appearance, but we were in a hurry. This didn't have a whole lot of taste. I might make this again, but would definately have to change up the seasoning. The italian dressing can barely be tasted.